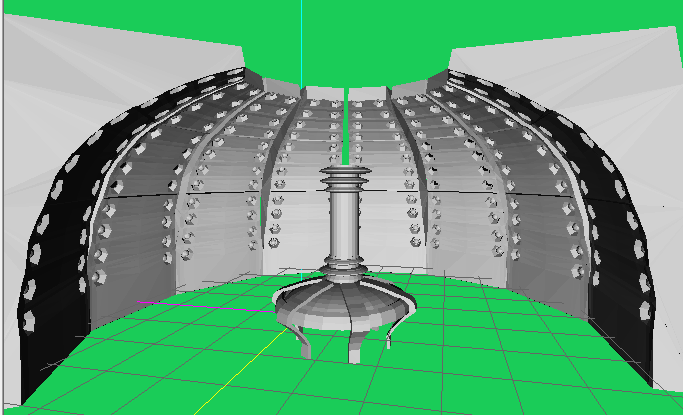 Ok I lied, I said no screenshots before I was almost done, well just so everyone would know I am working away I decided instead of answering a bunch of different emails, just show a quick peak at progress. And no before you ask it will not be a single object, it would be way way to large lol (though much damm easier lol).
I will be making the walls and surroundings in console room before I finish the console. It will be last. I will be updating progress area once I begin creating the in game packages, and narrow done the specifics. I hope to begin texturing tomorrow and if I am lucky, creating the wall packages for a test run. I have recieved a few emails regarding enterin the contest or asking what the exclusive prize is, and if its the regen into the doctors.
The exclusive item is a secret. Sorry. It will be annouched after the date closes and before final decisons are made. I will only say this, itsd octor who related, and I have never hinted at or released it before. It will be publicly displayed on this site after the contest as an existing mod, but will only be made available to contest winners or special appreciation. This will be the first of such items.
The Regeneration package will be made available to everyone. With the best versions of the contest entries.
As for the grand prize winner. Virtually any mod is open as long as its not something already planned. Dalek etc. They will be released in ther own time, likely not long from now at the rate of progress I have made revamping mods. This could be a new sonic screwdriver, classic console or other, the wire, Torchwood hub, lazarus chamber, eye of harmony, rod of rassilon whatever.. If you are intending to enter please leave a comment (in the contest post) with your planed doctors, that way we are sure that not everyone does tennant or baker.
Once Console is done I will be taking a small break and doing some upgrades and bug fixes on some of the test releases, also adding more features to lot travel for tardis for those that are testing it.